At Captar Partners, our recruitment process is unique.
With a team of highly experienced consultants, we work transparently with businesses and candidates to grow teams, empower businesses and improve communities. While supporting career management with our candidates, we comprehensively support hiring businesses, covering strategy, risk, and compliance. Rather than simply filling another role you need today, we work with you to fully understand your needs, map the market, and build a long-term strategy and talent pipeline to not just grow your business, but to expand strategically in the finance market.
Based in the Hong Kong and Singapore regions, we specialize in both permanent and contract mid-senior roles in finance businesses, specializing in:
Accounting & Finance

Financial Services

Human Resources & Business Support

Contracting & Temp

Crypto & Blockchain

Insurance & Insuretech

Marketing

Professional Services

Technology
We provide a full report on current needs at the beginning of the project, helping you to map progress and understand your needs throughout the transition journey. Our consultants work directly and closely with you to ensure a consistent point of contact throughout the project, with continued advice and insights on how the market is likely to evolve.
Not only that, but our Captar consultants are banking and finance specialists, regularly hosting leading industry talks with an active and future-ready understanding of all corners of finance, including cryptocurrency, blockchain, and NFTs. Additionally, we understand and utilize our unique positioning in Hong Kong as a global finance center with one of the world's most active and liquid securities markets.
The recent relaxing of the crypto laws within Hong Kong, means it is now the ideal destination to expand your business. To understand how Captar can help you through this process, view our infographic below: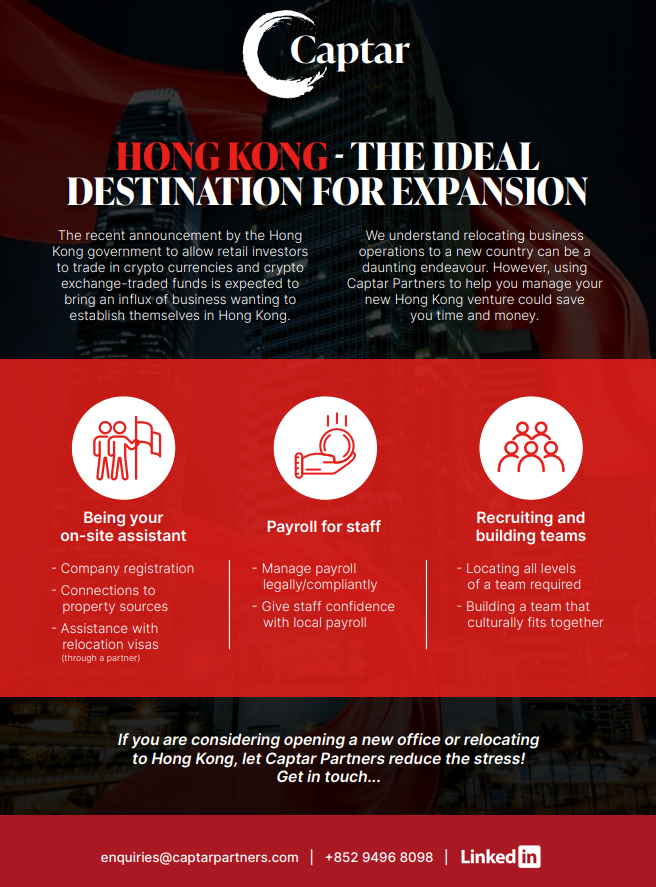 ​
To find out more about our services, fill in the form below.
​